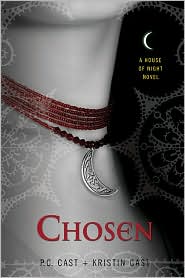 Chosen By Kristin Cast + P.C. Cast
Published: March 2008
Pages: 320
Age Group: Young Adult
Publisher: St. Martin's Press
Bloodlust and dark forces are at work at the House of Night, and fledgling vampyre Zoey Redbird's adventures at the school take a mysterious turn. Those who appear to be friends are turning out to be enemies. And, oddly enough, sworn enemies are also turning into friends. So begins the gripping third installment of this "highly addictive series" (Romantic Times), in which Zoey's mettle will be tested like never before. Her best friend, Stevie Rae, is undead and struggling to maintain a grip on her humanity. Zoey doesn't have a clue how to help her, but she does know that anything she and Stevie Rae discover must be kept secret from everyone else at the House of Night, where trust has become a rare commodity. Speaking of rare, Zoey finds herself in the very unexpected and rare position of having three boyfriends. Mix a little bloodlust into the equation and the situation has the potential to spell social disaster. Just when it seems things couldn't get any tougher, vampyres start turning up dead. Really dead. But, as Zoey and her friends find out, things are not always what they seem…
As much as I loved the covers of the last two books, this one just didn't hit the spot. It was just kind of... creepy looking. And I thought it was slightly boring. Also, I thought maybe the neck would have the locket Zoey got from gorgeous Heath, but it didn't. The picture really had no relation with the book.
Although I didn't very much enjoy the first two books (Marked and Betrayed) I loved this books! The plot finally has a point to it! YAY! The book started out similar to the others, meaning lots of drama, Zoey being whiney and causing her own problems, and most importantly very repetitive. However, the last 100 pages or so were absolutely... AMAZING!
One of the problems I had with the previous two books was Zoey's boy problems. She spent way too much time talking about them but never really did anything to fix them. In this book however, Zoey finally takes some action. First, she goes to try and dump Heath (again), and fails (again). After her steamy scene with Heath she goes back to the academy only to hook up with Loren Blake. They imprint on each other which leaves Zoey with only two boyfriends. Then when I thought things couldn't get any more complicated... they did! I'm not going to say what happened (don't want to spoil too much) but wow, the book definitely picks up at the end.
I also love the direction of Aphrodite and Zoey's relationship. Its actually a bit funny because I always wondered if they would eventually become allies. Their relationship is actually quite funny, whether the Twins are calling her a hag bitch, or Aphrodite treats undead Stevie Rae like crap (because she smells like it) or just about anything. The girls try to hate each other but because of how closely Nyx has tied them, they can't.
This is about as much as I can say without blurting out all the amazing spoilers I would like to. I just want to say this: If you really don't want to read the first two books because they aren't very good than don't. All the information you need about the past two books is in this one. if you find yourself struggling to get through the first two as I did just read this book. It is amazing and I absolutely cannot wait to finish the fourth!
4.5/5