Yay, a new giveaway! This giveaway is in celebration of author Susane Colasanti! In case you haven't heard of her, she is the author of
When It Happens
,
Take Me There
, and her upcoming novel Waiting For You which is set to be released in May.
Being the YA romance addict that I am, A Susane Colasanti giveaway is the perfect idea! For those of you like myself who are interested in her books here is a widget for you to read the first three chapters of each!
Susane Colasanti Sampler
To help gather excitement for her upcoming release I am giving away a copy of Take Me There for one lucky wi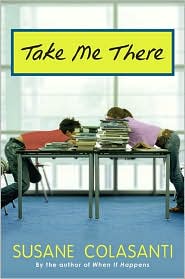 nner to get a glimpse of her writing!
Here is the summary:
In one short week . . . three lives change.
Rhiannon is devastated after the breakup with her boyfriend and wants him back. Nicole's ex is still in the picture, but she can't help having a new crush. James and Rhiannon are just friends, though he may try to take it to the next level. Will their desire to take a mean girl down a notch bring these three friends what they want . . . and more?
Contest rules are as follows:
This contest is open to the U.S. only (sorry internationals!)
This contest will end April 18tht midnight!
And now for entries:
+1 for a comment below
+1 for following
+2 if you already follow
+1 for adding me to your blogroll
+1 for posting this somewhere else (i.e. a blog or your sidebar)
It really helps if everyone posts a separate comment for each entry. Basically it makes it much easier for me to count up entries. If you leave one comment with all five of your entries you will only get one entry... SORRY!