Thank you to Kristi from
The Story Siren
for giving us bloggers a great way to brag about all the fabulous books we receive on a weekly basis!
This week I received a pretty good amount of books considering that I have been out of town for half of it!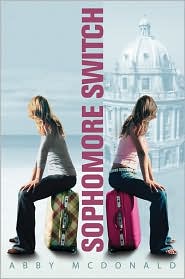 Sophomore Switch by Abby McDonald (March 2009/HB)
Take an administrative snafu, a bad breakup, and what shall heretofore be known as "The Hot-Tub Incident," and you've got two unprepared sophomores on a semester abroad. For American party girl Tasha, an escape to Oxford may be a chance to ditch her fame as a tabloid temptress, but wading Uggs-deep in feminist theory is not her idea of a break. Meanwhile, the British half of the exchange, studious Emily, nurses an aching heart amid the bikinis and beer pong of U.C. Santa Barbara. Soon desperation has the girls texting each other tips — on fitting in, finding love, and figuring out who they really are. With an anthropologist's eye for detail and a true ear for teen-speak, exciting new novelist Abby McDonald has crafted a funny, fast-paced, poignant look at survival, sisterhood, and the surprising ways we discover our true selves.
He's my teacher. I shouldn't be alone with him. But I can't help that he's irresistible.
I let the door silently close at my back. He stared at me, and a taut quiet stretched between us. "I like hearing you play," I said, moving toward him. He turned, in sync with my slow approach. He looked up at me but didn't say anything. I rested my clammy hand on the cold, slick body of the baby grand. "May I?" The muscles in his throat shifted, then he swallowed. "Eden." My knees weakened, like a soft tickling kiss had just been blown against the backs of them. "Is it okay?" I asked. His gaze held mine like two hands joined. He understood what I was really asking. "Let me stay," I said. "Please." "You're going to get me in trouble," he said.
When fifteen-year-old Clary Fray heads out to the Pandemonium Club in New York City, she hardly expects to witness a murder -- much less a murder committed by three teenagers covered with strange tattoos and brandishing bizarre weapons. Clary knows she should call the police, but it's hard to explain a murder when the body disappears into thin air and the murderers are invisible to everyone but Clary.
Equally startled by her ability to see them, the murderers explain themselves as Shadowhunters: a secret tribe of warriors dedicated to ridding the earth of demons. Within twenty-four hours, Clary's mother disappears and Clary herself is almost killed by a grotesque demon. But why would demons be interested in ordinary mundanes like Clary and her mother? And how did Clary suddenly get the Sight? The Shadowhunters would like to know....
Hunted by P.C. + Kristin Cast
(March 2009/HB)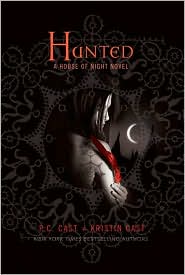 What if the hottest guy in the world was hiding a nameless evil, and all he wanted was you?
At the start of this heart-pounding new installment of the bestselling House of Night series, Zoey's friends have her back again and Stevie Rae and the red fledglings aren't Neferet's secrets any longer. But an unexpected danger has emerged. Neferet guards her powerful new consort, Kalona, and no one at the House of Night seems to understand the threat he poses. Kalona looks gorgeous, and he has the House of Night under his spell. A past life holds the key to breaking his rapidly spreading influence, but what if this past life shows Zoey secrets she doesn't want to hear and truths she can't face?
On the run and holed up in Tulsa's Prohibition-era tunnels, Zoey and her gang must discover a way to deal with something that might bring them all down. Meanwhile, Zoey has a few other little problems. The red fledglings have cleaned up well – they've even managed to make the dark, creepy tunnels feel more like home – but are they really as friendly as they seem? On the boyfriend front, Zoey has a chance to make things right with super-hot ex-, Eric, but she can't stop thinking about Stark, the archer who died in her arms after one unforgettable night, and she is driven to try to save him from Neferet's sinister influence at all costs. Will anyone believe the power evil has to hide among us?
I'm pretty excited about all of them. Right now the only book from that list I have finished is Hunted, and I will post a review sometime this week hopefully!
What did you get?