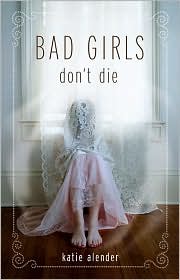 Bad Girls Don't Die by Katie Alender
Publish Date: April 21, 2009
Pages: 352
Age Group: Young Adult
Publisher: Hyperion
Alexis thought she led a typically dysfunctional high school existence. Dysfunctional like her parents' marriage; her doll-crazy twelve-year-old sister, Kasey; and even her own anti-social, anti-cheerleader attitude.

When a family fight results in some tearful sisterly bonding, Alexis realizes that her life is creeping from dysfunction into danger. Kasey is acting stranger than ever: her blue eyes go green sometimes; she uses old-fashioned language; and she even loses track of chunks of time, claiming to know nothing about her strange behavior. Their old house is changing, too. Doors open and close by themselves; water boils on the unlit stove; and an unplugged air conditioner turns the house cold enough to see their breath in.
Alexis wants to think that it's all in her head, but soon, what she liked to think of as silly parlor tricks are becoming life-threatening--to her, her family, and to her budding relationship with the class president. Alexis knows she's the only person who can stop Kasey -- but what if that green-eyed girl isn't even Kasey anymore?
One of my favorite elements in a book is a badass main character. Alexis is now contenting for the top of my badass heroin list with Rose Hathaway from Vampire Academy, a feat i never thought possible. Alexis's character was a wonderful blend of funny, uncertain yet bold, cute, and just all-around creative. I love people, characters included, who aren't afraid to flaunt who they are. One of my many favorite parts of the book was when Alexis was suspended from school for putting stickers that said 'Gas Guzzler' on every SUV in her school's parking lot. Then when being questioned she told the principal she skipped her car because she heard she was on the waiting list for a hybrid. I laughed out loud for much longer than I should when I read that. I have a secret jealousy of people who are so unafraid of speaking truthfully at all times, even when the time isn't necessarily correct. Alexis definitely falls into that category.
The story line of the story surprised me. Being a supernatural novel, it was somewhat predictable however, there were certain elements I never expected. For one, I never expected Alexis to have a happily ever after ending that entailed popularity and a boyfriend. If I had been told this ending when I first started reading, I would have put the book down because it seemed so far from realistic, however the story took turns that worked perfectly with this surprise ending. I also never expected Megan to be so involved in the story, and most certainly not to that extent.
One of my favorite parts of this story was how unlike most supernatural stories that have a romantic tie-in, Alexis never once played the dansel in distress. Even after she found out what was happening to Kasey, she never allowed Carter to help her out. I loved that! I love seeing the girl as the 100% hero for once, rather than relying on a boy to help them. Thank you Katie for the breath of fresh air!
Bad Girls Don't Die is a wonderful debut novel. There wasn't a single aspect or idea I would have changed. If you weren't planning on purchasing it, you better start rethinking. This is a novel you don't want to miss!
5/5
And now for those of you who are interested in the book, here is the trailer!
And of course, an interview with the wonderful author herself, Katie Alender!
Where did you get the idea for Bad Girls Don't Die?
It came to me one day while I was daydreaming. It began as the story of two sisters who felt disconnected from their family's history and made up stories to fill the gaps. Obviously it's evolved from there, but the connection between the sisters remains as strong as that first moment—especially the older sister trying to comfort and protect her younger sister.
Is any of it based off of something that has happened to you?
No—thank goodness! I'm too much of a wimp. The day the basement door closed by itself would be the day the moving van came and hauled me off to a new house.
Which character can you most identify with?

Probably Alexis. Not that I was ever much of a troublemaker, but I share her tendency to overanalyze, take things personally, and rush to judgment.
What, if any, is the message you are trying to get across?
That we are stronger than we give ourselves credit for being. And that people usually aren't what they seem.
Alexis is, for lack of a better word, a badass. What or who gave you the idea for such a unique and cool character?

Oh, thank you! She would appreciate that. I think some of the inspiration for Alexis came from where I was (in life) when I first wrote the character. I had been through some things, good and bad, that left me feeling like I knew myself better than I had before. Alexis is brave in a way I wasn't as a teen, but that I found within myself in my twenties. She's not afraid to call it like she sees it… even if, as she learns, the way she sees it isn't necessarily 100% true.
And I just wanted to write a character that didn't sit around and wait to be rescued by Prince Charming—Alexis is too stubborn and too bold not to stand up for herself and try to solve her own problems.
What made you cross over from film to writing?

When I left film school, I started working in development for TV, which is where you try to come up with ideas for TV shows. There's a lot of storytelling in that type of work, which definitely pushed me toward writing fiction. Then, once I started, I couldn't stop. I think my filmmaker side, coupled with my storyteller side, plus my impatience and control-freakness, turned me into an author. When you write, it's like directing a movie in your head, with actors who get it right every take!
Looking at your blog I see you're an American Idol fan. Who do you want to win?

Of course, by the time this post goes live, the people I like could be voted off! I'm a big fan of Danny Gokey, and I admire Adam Lambert's technical skills. I also like Kris Allen, because he seems like a nice guy, and Allison Iraheta, because she's such a little rocker (plus, she has pink hair, like Alexis!).
What does your husband think about your writing. Is he supportive?

He's extremely supportive. From the beginning, he took it for granted that I could write a book that would get published. Even when that idea wasn't even a glimmer in my eye, he believed I had it in me.
What are some of your all-time favorite books?

Atlas Shrugged, by Ayn Rand
Gone With the Wind, by Margaret Mitchell
Pride and Prejudice, by Jane Austen
Fair and Tender Ladies, by Lee Smith
This Place Has No Atmosphere, by Paula Danziger
The Cloister Walk, by Kathleen Norris
Animal, Vegetable, Miracle, by Barbara Kingsolver
And, if you have anything you're dying to answer than I haven't asked, add it!!!
I just want to say thank you to the entire book blogging community. You guys are appreciated more than you can even imagine! You're so amazingly supportive of authors and their books.
Thank you very much for the interview Katie, and congratulations on such an amazing novel!