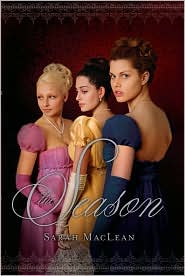 Publish Date: March 2009
Pages: 352
Age Group: Young Adult
Publisher: Scholastic, Inc.
Seventeen year old Lady Alexandra is strong-willed and sharp-tongued -- in a house full of older brothers and their friends, she had to learn to hold her own. Not the best makings for an aristocratic lady in Regency London. Yet her mother still dreams of marrying Alex off to someone safe, respectable, and wealthy. But between ball gown fittings, dances, and dinner parties, Alex, along with her two best friends, Ella and Vivi, manages to get herself into what may be her biggest scrape yet.
When the Earl of Blackmoor is mysteriously killed, Alex decides to help his son, the brooding and devilishly handsome Gavin, uncover the truth. But will Alex's heart be stolen in the process? In an adventure brimming with espionage, murder, and other clandestine affairs, who could possibly have time to worry about finding a husband? Romance abounds as this year's season begins!
Historical Fiction has never held much interest to me. I have always found them to be filled mostly with non-fiction and a short and boring plot line snuck in. However, The Season held me from the very first sentence. One of the reasons this book was so much more enjoyable than the majority of historical fictions was because the dialogue between characters fit the time period but wasn't so heavy that it wasn't understandable. It was the perfect mix of modern language and Old English to make the book accurate yet enjoyable.
I know that the majority of bloggers who have reviewed this book knew who the killer was immediately but I didn't! The whole time I thought the killer was Freddie! Since everyone else said they knew immediately I figured it was because of how much Gavin hated him! I didn't realize it was Blackmoor's uncle until the situation in the orangery! Congrats Sarah, you fooled at least one reader!
The relationship between Alex and Gavin was more realistic than I expected. It was written exceptionally well and the ups and downs between them kept me glued to the pages. The only issue I had was the relationship between Gavin and Penelope. The idea of it was brilliant because jealousy in love is addicting to read about, but compared to the relationship between Alex and Freddie it was completely under developed. I felt as though more characterization about Penelope would have created an even steamier romance when Alex and Gavin finally became close.
Another aspect I thoroughly enjoyed was the intelligence of the women. I had always though of women of 1800 England as stand ins like Alex didn't want to be. However Alex's mother was intelligent and still highly respected. Girl power!!
The Season is a fast paced Historical Fiction that will keep every reader glued from the first page. The romance is beautiful and the setting of the story is dream-like. Add a murder to this "perfect" lifestyle and the story is unbelievable! I recommend this story to everyone!
5/5