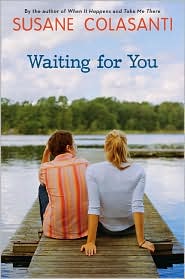 Yay, another week gone, and another week closer to so many great releases!
Waiting for You by Susane Colasanti
At the beginning of her sophomore year, Marisa is ready for a fresh start and, more importantly, a boyfriend. So when the handsome and popular Derek asks her out, Marisa thinks her long wait for happiness is over. But several bumps in the road—including her parents' unexpected separation, a fight with her best friend, and a shocking disappointment in her relationship with Derek—test Marisa's ability to maintain her new outlook. Only the anonymous DJ, whose underground podcasts have the school's ear, seems to understand what Marisa is going through. But she has no idea who he is—or does she?

Yay, I love a good love story. I have actually been eying Susane Colasanti's books for quite some time now. Obviously, this means I am in deep anticipation for her third title, Waiting for You. The novel is set to be released by Penguin on May 14, 2009.
What are you waiting for?