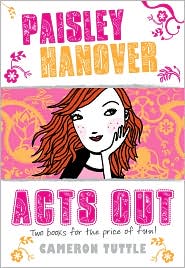 Paisley Hanover Acts Out by Cameron Tuttle
Publish Date: March 2009
Pages: 352
Age Group: Young Adult
Publisher: Penguin Group
Always one of the popular kids, sophomore Paisley Hanover gets a rude awakening when she's booted out of yearbook and into the badlands of drama class. Out of her element but only momentarily out of ideas, Paisley takes action-and an unexpected liking to her drama buddies. The result? An undercover crusade that could bring down the popularity pecking order, and Paisley along with it.
This is the story of how Paisley Hanover gets wise, gets bold, and gets into a hilarious mess of trouble. With a package as fresh and clever as Paisley herself- including a cool slipcase, a fabulous novel, and Paisley's notebook of embarrassingly funny ideas and doodles-it's the start of a series that embraces the "Un" in UnUsual.
What an amazing book! From the very first page, Tuttle's overly creative writing filled my mind and kept me hooked. I read this entire book in one sitting, and absolutely cannot wait until the sequel comes out!
Paisley Hanover's story is one nearly everyone can relate to. Tuttle's use of characters and their roles was realistic and I constantly saw resemblances between Paisley's school and my own. Although all the characters are slightly over dramatic it only adds to the story, rather than taking away from it.
I also have a giddy crush on Clint. He is a badass and I love it. Although he is supposed to be more "mellow" than past years I still love him. His character is powerful and I actually laughed out loud when he said "air mail delivery for Paisley Hanover" right before falling straight on top of her. I wish I was that creative!
The use of conversational language in this novel was perfect. Many authors try to captivate their readers by using slang and curses and it usually doesn't sound right at all. However Tuttle's use of slang was perfect and hilarious!
The message of the story is wonderful and I think everyone can take something away from it. Besides being absolutely hilarious, Paisley's story was easy to relate to and powerful. The stereotypical "pops" are completely realistic and it is sad to see the separation between high schoolers.
5/5