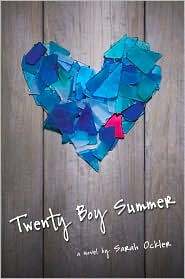 So I think I am the only blogger in the blogosphere without an ARC of this book, but I still really can't wait to read it!!!
Twenty Boy Summer by Sarah Ockler
"Don't worry, Anna. I'll tell her, okay? Just let me think about the best way to do it.""Okay.""Promise me? Promise you won't say anything?""Don't worry." I laughed. "It's our secret, right?"According to her best friend Frankie, twenty days in ZanzibarBay is the perfect opportunity to have a summer fling, and if they meet one boy ever day, there's a pretty good chance Anna will find her first summer romance. Anna lightheartedly agrees to the game, but there's something she hasn't told Frankie---she's already had that kind of romance, and it was with Frankie's older brother, Matt, just before his tragic death one year ago.
Yeah it looks amazing, I'm super excited for it. Twenty Boy Summer will be released in June.
What are you waiting for?