A special thanks to
Kristi from The Story Siren
for this amazing meme that allows us bloggers to brag about all the fabulous books we received over the week!
I actually got a ton of books this week! I received nine books for review!
At the beginning of her sophomore year, Marisa is ready for a fresh start and, more importantly, a boyfriend. So when the handsome and popular Derek asks her out, Marisa thinks her long wait for happiness is over. But several bumps in the road—including her parents' unexpected separation, a fight with her best friend, and a shocking disappointment in her relationship with Derek—test Marisa's ability to maintain her new outlook. Only the anonymous DJ, whose
underground podcasts have the school's ear, seems to understand what Marisa is going through. But she has no idea who he is—or does she?
Lipstick Apology by Jennifer Jabaley (ARC/August 2009)
Sometimes a good-bye is just the beginning…
When Emily Carson's parents die in a plane crash, she's left with nothing but her mother's last words scrawled in lipstick on a tray table: "Emily, please forgive me."
Now it's fall and Emily moves to New York City— where she attracts the attention of two very different boys: the cute, popular Owen, and her quirky chemistry partner, Anthony. With the help of some surprising new friends, Emily must choose between the boy who helps her forget and the one who encourages her to remember, and ultimately heal.
"This is the unbelievable story of how I went to college, gained twenty-five pounds, got dumped by my boyfriend, failed physics and became a worldfamous supermodel."
So begins the Cinderella story of Beatrice Wilson, whose life changes overnight when she's discovered by a scout for the oldest, most prestigious modeling agency in America-for their plus-sized division.
Now she must find the confidence to vanquish skinny rivals, fend off sleazy photographers, and banish scheming frenemies in her rise to superstardom, all while trying to get her ex-boyfriend back. But Bea learns that to win prince charming, you first have to find a way to love yourself.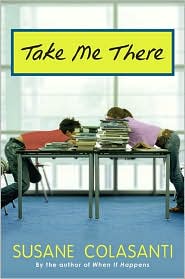 Take Me There by Susane Colasanti (ARC/May 2008)
In one short week . . . three lives change. Rhiannon is devastated after the breakup with her boyfriend and wants him back. Nicole's ex is still in the picture, but she can't help having a new crush. James and Rhiannon are just friends, though he may try to take it to the next level. Will their desire to take a mean girl down a notch bring these three friends what they want . . . and more?
Set during one life-altering week and told in three realistic perspectives, this engaging, witty novel by the author of When It Happens shows the ups and downs of love, friendship-and karma.
Then her dad turns up dead—but still walking—and Dru knows she's next. Even worse, she's got two guys hungry for her affections, and they're not about to let the fiercely independent Dru go it alone. Will Dru discover just how special she really is before coming face-to-fang with whatever—or whoever— is hunting her?
The Chronicals of Vladimir Tod: Tenth Grade Bleeds by Heather Brewer (ARC/July 2009)
It's another sucky year at Bathory High for Vladimir Tod. The evil vampire D'Ablo is hunting for the ritual that could steal Vlad's powers. His best friend Henry doesn't want to be his drudge anymore. And as if all that weren't enough, it's getting harder for Vlad to resist feeding on the pe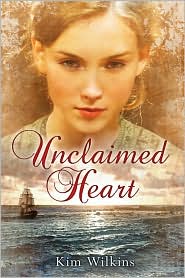 ople around him. When months go by with no word from Uncle Otis and D'Ablo shows up demanding Vlad's father's journal, Vlad realizes that having a normal high school year is the least of his concerns. Vlad needs to act fast, and even his status as the Pravus won't save him this time . . .
Unclaimed Heart by Kim Wilkins (ARC/July 2009)
The rules for a young English woman in 1799 are simple: Do what you're told; stay out of the way; and don't, under any circumstances, ask questions.
But Constance Blackchurch is insatiable, headstrong, and complex; and the quest to find her missing mother is too much to resist…
…as is Alexandre Sans-Nom, the pearl diver who steals her heart, uproots all of her social expectations, and can either ruin or save the family she loves.
Chloe-Grace can't help it-she's spectacular. How could she not be with celebrity parents who have been the queen and king of Hollywood for years? But Chloe is a celebrity all unto herself as well- she's the first celebrity-adopted kid in Hollywood. But now Chloe's sixteen, and she is tired of every undesired moment of the world's attention. She wonders what it would be like to be a "normal" kid in a regular school. To really understand it, though, she would need to go undercover. So after getting a "make-under" at the hands of her mother's fabulous stylist, she enters the "real" world. But she soon finds out that there is just as much drama there as there is in Hollywood . . . .
What did you guys get this week?