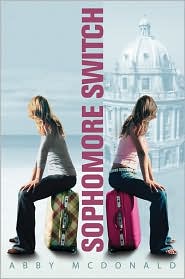 Sophomore Switch by Abby McDonald
Publish Date: March 2009
Pages: 304
Age Group: Young Adult
Publisher:Candlewick Press
Take an administrative snafu, a bad breakup, and what shall heretofore be known as "The Hot-Tub Incident," and you've got two unprepared sophomores on a semester abroad. For American party girl Tasha, an escape to Oxford may be a chance to ditch her fame as a tabloid temptress, but wading Uggs-deep in feminist theory is not her idea of a break. Meanwhile, the British half of the exchange, studious Emily, nurses an aching heart amid the bikinis and beer pong of U.C. Santa Barbara. Soon desperation has the girls texting each other tips — on fitting in, finding love, and figuring out who they really are. With an anthropologist's eye for detail and a true ear for teen-speak, exciting new novelist Abby McDonald has crafted a funny, fast-paced, poignant look at survival, sisterhood, and the surprising ways we discover our true selves.
What a great book! Being that I am a high school senior, soon to be college freshman I love reading books set in college. Sophomore Switch was an addicting story about two college sophomores finding themselves in the least expected place possible.
Throughout the story both Natasha and Emily are struggling at living outside of their comfort zone. Natasha is a party girl from California and Emily an over achiever from Oxford. Both girls have trouble breaking out of their stereo types and truly figuring out who they are.
My favorite part of this story was how realistic it was. I can picture Natasha struggling, yet succeeding, in Oxford. I can also picture Emily finally walking around in a bikini with a fake ID and loving it. McDonald didn't rush either of the girls down their path or over explain anything.
I also thought the Sebastian thing was funny. I can't believe he was Natasha's 'busy' next door neighbor!!!
Another element I loved about this book was how each chapter switched between girls. In each girl's chapter they would go through similar changes, but in two completely different places. It's amazing how similar their stories are, yet so completely different. The only time this chapter idea became slightly confusing was when the girls met up in Florida. I kept having to check who's chapter I was reading.
If you haven't picked up Sophomore Switch, do it. The story is addicting and fun, the perfect summer read! 5/5