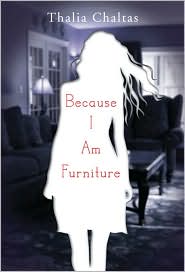 Because I Am Furniture by Thalia Chaltas
Publish Date: April 16, 2009
Pages: 368
Age Group: Young Adult
Publisher: Penguin
Anke's father is abusive. But not to her. He attacks her brother and sister, but she's just an invisible witness in a house of horrors, on the brink of disappearing altogether. Until she makes the volleyball team at school. At first just being exhausted after practice feels good, but as Anke becomes part of the team, her confidence builds. When she learns to yell "Mine!" to call a ball, she finds a voice she didn't know existed. For the first time, Anke is seen and heard. Soon, she's imagining a day that her voice will be loud enough to rescue everyone at home-including herself.
I' had this book for a couple months, and had been dying to read it! The title is a little different which made me curious, and of course the cover is beautiful. It also has this really cool texture, though I'm not sure if the actual edition will have it or just the ARC.
When I first opened up the book I realized it was written in verse, similar to Ellen Hopkins books. For some reason this immediately made me skeptical, but I continued anyways. I'm very glad I decided to.
Because I Am Furniture went much deeper than I expected. It was hard to continue reading, yet I couldn't stop. The abuse the family suffers through is so sad!
I thought the transformation Anke went through was surprisingly realistic. The relationships she had at the beginning of the book reflected the place she was in and the change in friendships reflected her recovery. I thought the idea of showing recovery through relationships was unique and interesting.
The book took turns when I least expected them, which always kept me glued. I actually stayed up until 2 am to finish because I couldn't put it down!
The ending of the book was beautifully written and I loved the happy ending. Although I was a bit curious about how her boy troubles ended.
Because I am Furniture is a quick and addicting read in which I recommend to everyone! 3.5/5