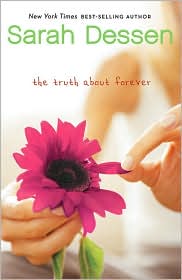 The Truth About Forever by Sarah Dessen
Published: May 2004
Pages: 384
Age Group: Young Adult
Publisher: Penguin
Sixteen-year-old Macy Queen is looking forward to a long, boring summer. Her boyfriend is going away. She's stuck with a dull-asdishwater job at the library. And she'll spend all of her free time studying for the SATs or grieving silently with her mother over her father's recent unexpected death. But everything changes when Macy is corralled into helping out at one of her mother's open house events, and she meets the chaotic Wish Catering crew. Before long, Macy joins the Wish team. She loves everything about the work and the people. But the best thing about Wish is Wes—artistic, insightful, and understanding Wes—who gets Macy to look at life in a whole new way, and really start living it….
Just like all of Sarah Dessen's novels, The Truth About Forever was exceptional. She always finds a way to use the same plot idea but yet leave me completely surprised by the outcome. All of her books have such similar time lines and ideas yet I never correctly predict the ending.
Damn, Wes sounds like such a catch. From his perfect looks to his beautiful soul I found myself a little fangirly. I love his patience with everyone around him and how truly happy he makes people. I also have a HUGE crush on any guy who knows he is attractive but finds people staring at them to awkward instead of acting rude and cocky.
I found many similarities between Macy and Auden from Along For The Ride. They both struggle with similar issues, but I was happy to see they both solved them in different ways.
This book is old and many of you have read it so I don't feel this needs to be a super in depth review. Overall I loved the book and can't wait to continue reading Sarah Dessen's novels.
4/5