This great reason for everyone to brag about all the books they received was started by Kristi at
The Story Siren
.
This week I received a pretty good amount of books, though some that I was expecting didn't show.
Bought: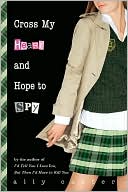 Cross My Heart and Hope to Spy by Ally Carter
I bought these two books because I received an ARC of Don't Judge a Girl by Her Cover in the series and I haven't read the first two yet! They look pretty cute although I have a feeling their a little tweeny. Has anyone else read them?
I'd Tell You I Love You But
Then I'd Have to Kill You by Ally Carter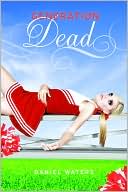 Generation Dead by Daniel Waters
Phoebe Kendall is just your typical Goth girl with a crush. He's strong and silent.and dead.
All over the country, a strange phenomenon is occurring. Some teenagers who die aren't staying dead. But when they come back to life, they are no longer the same. Feared and misunderstood, they are doing their best to blend into a society that doesn't want them.
The administration at Oakvale High attempts to be more welcoming of the "differently biotic." But the students don't want to take classes or eat in the cafeteria next to someone who isn't breathing. And there are no laws that exist to protect the "living impaired" from the people who want them to disappear-for good.
When Phoebe falls for Tommy Williams, the leader of the dead kids, no one can believe it; not her best friend, Margi, and especially not her neighbor, Adam, the star of the football team. Adam has feelings for Phoebe that run much deeper than just friendship; he would do anything for her. But what if protecting Tommy is the one thing that would make her happy?
From the Library:
Unwind by Neal Shusterman
In a society where unwanted teens are salvaged for their body parts, three runaways fight the system that would "unwind" them
Connor's parents want to be rid of him because he's a troublemaker. Risa has no parents and is being unwound to cut orphanage costs. Lev's unwinding has been planned since his birth, as part of his family's strict religion. Brought together by chance, and kept together by desperation, these three unlikely companions make a harrowing cross-country journey, knowing their lives hang in the balance. If they can survive until theireighteenth birthday, they can't be harmed — but when every piece of them, from their hands to their hearts, are wanted by a world gone mad, eighteen seems far, far away.
The Truth A
bout Forever by Sarah Dessen
Sixteen-year-old Macy Queen is looking forward to a long, boring summer. Her boyfriend is going away. She's stuck with a dull-asdishwater job at the library. And she'll spend all of her free time studying for the SATs or grieving silently with her mother over her father's recent unexpected death. But everything changes when Macy is corralled into helping out at one of her mother's open house events, and she meets the chaotic Wish Catering crew. Before long, Macy joins the Wish team. She loves everything about the work and the people. But the best thing about Wish is Wes—artistic, insightful, and understanding Wes—who gets Macy to look at life in a whole new way, and really start living it….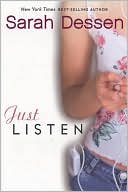 Just Listen by Sarah Dessen
when Annabel, the youngest of three beautiful sisters, has a bitter falling out with her best friend-the popular and exciting Sophie-she suddenly finds herself isolated and friendless. but then she meets owen-a loner, passionate about music and his weekly radio show, and always determined to tell the truth. And when they develop a friendship, Annabel is not only introduced to new music but is encouraged to listen to her own inner voice. with Owen's help, can Annabel find the courage to speak out about what exactly happened the night her friendship with Sophie came to a screeching halt?

Evernigh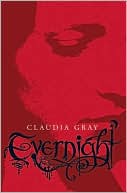 t by Claudia Gray
Bianca wants to escape.
At the eerily Gothic Evernight Academy, the other students are sleek, smart, and almost predatory. Bianca knows she doesn't fit in.
When she meets handsome, brooding Lucas, he warns her to be careful—even when it comes to caring about him. But the connection between them can't be denied. Bianca will risk anything to be with Lucas, but dark secrets are fated to tear them apart . . . and to make Bianca question everything she's ever believed.
North of Beautiful by Justina Chen Headley
Terra is tall and blonde, with an unbelievably gorgeous body, but what most people in her stifling Washington town notice is the port-wine birthmark covering half her face. Terra secretly plans to leave her small town by escaping to an East Coast college, but is pushed off-course by her controlling father. When she meets handsome, goth Jacob who immediately understands her battle with feeling different, Terra is forced in yet another direction. With her carefully laid plans disrupted, will Terra be able to find her true path?
I'm expecting a few ARCs this week, can't wait!!! What books did you receive?
Taylor