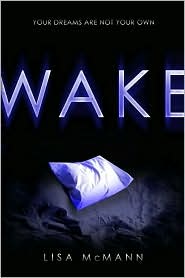 Wake by Lisa McMann
Publish Date: March 2008
Pages: 210
Age Group: Young Adult
Publisher: Simon and Schuster
Not all dreams are sweet.
For seventeen-year-old Janie, getting sucked into other people's dreams is getting old. Especially the falling dreams, the naked-but-nobody-notices dreams, and the sex-crazed dreams. Janie's seen enough fantasy booty to last her a lifetime.
She can't tell anybody about what she does — they'd never believe her, or worse, they'd think she's a freak. So Janie lives on the fringe, cursed with an ability she doesn't want and can't control.
Then she falls into a gruesome nightmare, one that chills her to the bone. For the first time, Janie is more than a witness to someone else's twisted psyche. She is a participant....
Wake
is the epitome of quick and to the point, and I mean that in a very positive way. McMann has done a great job on the editing process of this book. There isn't a single wasted word. Unlike most books, there are no fifty pages of fluff crammed in to fill more pages. I usually don't find myself a fan of quick reads, however Wake was quite the exception.
I'm puzzled as to how McMann has the ability to build such strong and deep characters and emotions in so few words. I found myself actually tearing up a few times. I know, I know, don't make fun of me!! Although the book may be short I can promise that there is no shortage in any other aspect. The plot line is perfect, the characters are quite developed and all of the relationships are very clear.
So as most of you know I am a huge fan of YA romance. Yeah, yeah I'm corny. Wow! There is something about the relationship between Cabel and Janie that blows my mind. I just couldn't get enough of them. They have a beautifully written relationship. Although they haven't spent very much time together the depth of their romance is wonderful. I found myself pining for more.
Wake
is an absolute must read. It posesses everything necessary for a great book and then some. Don't be wary by the lack of pages,
Wake
says all it needs to and more. I'm waiting for my copy of
Fade
from the library and I can't freaking wait!!
5/5