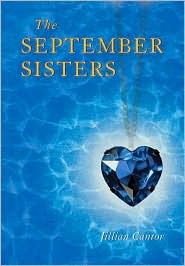 The September Sisters by Jillian Cantor
Publish Date: February 2009
Pages: 364
Age Group: Young Adult
Publisher:
HarperCollins
Abigail Reed and her younger sister, Becky, are always at each other's throats. Their mother calls them the September Sisters, because their birthdays are only a day apart, and pretends that they're best friends. But really, they delight in making each other miserable. Then Becky disappears in the middle of the night, and a torn gold chain with a sapphire heart charm is the only clue to the mystery of her kidnapping. Abby struggles to cope with her own feelings of guilt and loss as she tries to keep her family together. When her world is at its bleakest, Abby meets a new neighbor, Tommy, who is dealing with his own loss, and the two of them discover that love can bloom, even when it's surrounded by thorns.
The plot of The September Sisters is unique and cleverly scripted. I loved the slightly hopeful edge the story had despite the overall gloomy mood. The setting of the book was beautifully crafted for a debut novel.
The character development in this novel was beautiful. Cantor's whole idea was to explain characters in as few words as possible and it actually worked. Abby's mother was a complete mess throughout the whole book, even before Becky disappeared. Abby's father was a stronger person than their mother, but he had quite a few struggles of his own. The way he dealt with his problems was so stereotypical for a man! I also felt that I knew Becky very well, even though she was gone for the vast majority of the story. Abby's ability to relate every event in her life to an action by Becky made the story much more personal.
Tommy and Abby's relationship was a beautiful idea but I felt it was slightly unrealistic. The beauty of their relationship was certainly apparent, as was how they helped each other heal. However, toward the end when Tommy started ditching Abby for other people only to then feel her up and hell her she is beautiful wasn't very realistic. I felt as though he received too much credit from Abby after he ditched her when she needed him most.
My biggest problem with this novel was the ending. I felt it was rushed and too unrealistic. It was a cliche happily ever after ending. The beginning of the story was long and descriptive so I was expecting there to be more to the ending.
Overall The September Sisters was a cute story and an easy read. Ms. Cantor did a great job with her debut novel. 3.5/5