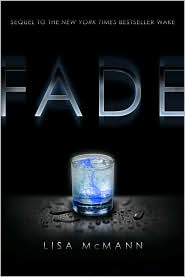 Fade by Lisa McMann
Publish Date: February 2009
Pages: 256
Age Group: Young Adult
Publisher: Simon & Schuster
SOME NIGHTMARES NEVER END.
For Janie and Cabel, real life is getting tougher than the dreams. They're just trying to carve out a little (secret) time together, but no such luck.
Disturbing things are happening at Fieldridge High, yet nobody's talking. When Janie taps into a classmate's violent nightmares, the case finally breaks open — but nothing goes as planned. Not even close. Janie's in way over her head, and Cabe's shocking behavior has grave consequences for them both.
Worse yet, Janie learns the truth about herself and her ability — and it's bleak. Seriously, brutally bleak. Not only is her fate as a dream catcher sealed, but what's to come is way darker than she'd feared....
Lisa McMann, you deserve your kitten! Just like Wake, Fade was fantastic. McMann's ability to mesh together love, supernatural, high school, and real life drama into a fast paced well-written novel blows my mind.
I was slightly afraid to read Fade because of how powerful Wake was. It was one of the best books I had ever read, and I hate to see books ruined by their sequel. However, Fade was equally as powerful as Wake.
The reason I am so drawn to McMann's novels is because I feel as though they were written for me. I have an extremely black and white personality, and do not enjoy extra fluff. I like anything that get's straight to the point. McMann's writing style is all of these things.
On top of her brilliant writing, Lisa has portrayed two broken, yet interesting and badass characters in a limited amount of words.
One of my favorite elements of this book was the issues it deals with. I love that although this book is based off of real life issues. Sex offenders have become a larger and larger problem in our nation and I think writing about it in a fictional book is a great way to explain the dangers to teens.
When Janie was drugged at the party I felt like I was there with her. The scene was so surreal I was amazed. It seemed extremely realistic and horrifying at the same time. Janie's slow loss of abilities kept me powering through the pages. I was so glad she didn't sleep with her teachers!
The relationship between Cabel and Janie is becoming slightly strange. At first I was drawn toward their sudden and intense relationship, however I feel as though now it is becoming under developed. This book should have been where the two characters begin to learn about each other rather than stay strangers in love. However all the two did was admit their lack of knowledge about each other and keep things that way. I was also disappointed it took each of them so long to begin talking after their fight.
Overall though, Fade was brilliant and I cannot wait for Gone, which will be released in 2010. 5/5