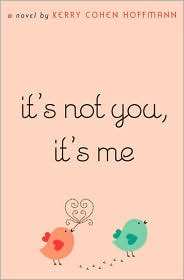 This week I am waiting for It's Not You, It's Me by Kerry Cohen Hoffmann. Here is the description:
Funny and touching—this is a heartfelt breakup story.
Zoe loves Henry.
Henry dumps Zoe.
Zoe wants Henry back—at any cost.
Zoe's two best friends come up with a plan to help Zoe get what she thinks she wants. The plan: make Henry jealous.
But the plan takes a surprising turn. . . .
Spanning thirty-one days in the cycle of a breakup, Kerry Cohen Hoffmann's humorous and poignant novel depicts a girl whose single-minded focus on her ex-boyfriend has pulled her far from the person she most needs to win back—herself.
Now onto the reasons why I want to read this book:
1. I love anything romance.
2. I love books about desire -hence her wanting him back at any cost.
3. It has a cute cover.
4. I love books that can mix humor in with seriousness.
What are you waiting for?
Taylor