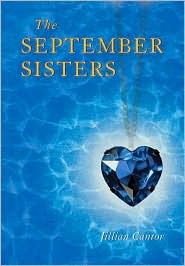 We can all thank Kristi from The Story Siren for giving such a wonderful reason to brag about the books we received throughout the week!
This week I only got one book but it was special!
The September Sisters by Jillian Cantor
Abigail Reed and her younger sister, Becky, are always at each other's throats. Their mother calls them the September Sisters, because their birthdays are only a day apart, and pretends that they're best friends. But really, they delight in making each other miserable. Then Becky disappears in the middle of the night, and a torn gold chain with a sapphire heart charm is the only clue to the mystery of her kidnapping. Abby struggles to cope with her own feelings of guilt and loss as she tries to keep her family together. When her world is at its bleakest, Abby meets a new neighbor, Tommy, who is dealing with his own loss, and the two of them discover that love can bloom, even when it's surrounded by thorns.

Yes I know I already reviewed The September Sisters but I won a signed copy from Lauren's Crammed Bookshelf. I'm sooooo excited it's my first signed book!!!! Well, actually I had a few signed when I was like five but I don't remember that so it doesn't count.
What did you get?