Hey everyone and welcome to my most recent contest! In honor of the month of March and all of it's great book releases I am going to be giving out three of this month's releases!
The books are:
Models Don't Eat Chocolate Cookies by Erin Dionne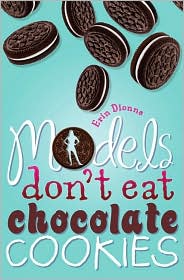 Thirteen-year-old Celeste Harris is no string bean, but comfy sweatpants and a daily chocolate cookie suit her just fine. Her under-the-radar lifestyle could have continued too, if her aunt hadn't entered her in the HuskyPeach Modeling Challenge. To get out of it, she's forced to launch Operation Skinny Celeste-because, after all, a thin girl can't be a fat model! What Celeste never imagined was that losing weight would help her gain a backbone . . . or that all she needed to shine was a spotlight.
A hilarious debut featuring friendship, family, mean girls and even celebrity crushes, Celeste's story is a delicious treat that doesn't add a pound.
Check out a review of it by Lenore here.

Taken by Storm by Angela Morrison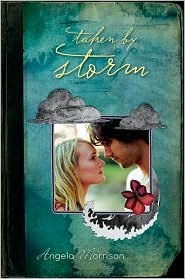 Leesie Hunt has many rules: No kissing. No sex. No dating outside the Mormon faith.
When Michael Walden-a deep-sea diver who lost his parents in a violent hurricane-arrives in town, Leesie sees someone who needs her. They fall for one another, even though his dreams are tied to the depths of the ocean and hers to salvation above.
Will their intense chemistry be too strong to resist?
Leesie and Michael must make the hardest choice of their lives: whether to follow their beliefs or their hearts.
Readers will be swept away by this tale of forbidden romance told in online chats, Leesie's chapbook poems, and Michael's dive log. It's as steamy as Twilight and just as clean.

Check out a review by Kristi from The Story Siren here, and one from The Compulsive Reader here.

Speak 10th
Anniversary Edition by Laurie Halse Anderson
Melinda Sordino busted an end-of-summer party by calling the cops. Now her old friends won't talk to her, and people she doesn't even know hate her from a distance. The safest place to be is alone, inside her own head. But even that's not safe. Because there's something she's trying not to think about, something about the night of the party that, if she let it in, would blow her carefully constructed disguise to smithereens. And then she would have to speak the truth. This extraordinary first novel has captured the imaginations of teenagers and adults across the country.
Be sure to check out Speak Out About Speak which was hosted hosted by Steph from Reviewer X and Lenore from Presenting Lenore.
I haven't yet decided if this contest will be won by three people receiving one book each or one person receiving all three books. I guess that will be a surprise!
Contest Rules:
You must post a comment below to enter. If for some reason this doesn't work then you can e-mail me your entry.
Second, I am not yet sure if this contest is international or not, this will be updated on Monday.Third, have fun!!
Entries:
+1 for commenting below
+1 for adding me to your blogroll
+1 for following me+2 for already following me
+1 for each post you make about this contest (I want to see the links unless it is a sidebar!)
+1 if someone says you referred them
This contest will run until March 21st at midnight! Good Luck!