Well after having a week where I didn't receive a single book and then last week where I only received one, this week certainly made up for those! Although there is no way my week can compare with Kristi from The Story Siren's because she received 35 books!
Kristi
is also the founder of this wonderful meme that allows all of us bloggers to brag about the new additions our ever-growing book collections.
I want to thank Em from
Em's Bookshelf
for most of the books I received this week. I won her Winter Contest which was full of amazing books!
Wake by Lisa McMann
For seve
nteen-year-old Janie, getting sucked into other people's dreams is getting old. Especially the falling dreams, the naked-but-nobody-notices dreams, and the sex-crazed dreams. Janie's seen enough fantasy booty to last her a lifetime.
She can't tell anybody about what she does — they'd never believe her, or worse, they'd think she's a freak. So Janie lives on the fringe, cursed with an ability she doesn't want and can't control.
Then she falls into a gruesome nightmare, one that chills her to the bone. For the first time, Janie is more than a witness to someone else's twisted psyche. She is a participant....
Bad Girls Don't Die by Katie Alender (ARC)
Alexis thought she led a typically dysfunctional high school existence. Dysfunctional li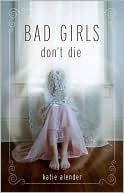 ke her parents' marriage; her doll-crazy twelve-year-old sister, Kasey; and even her own anti-social, anti-cheerleader attitude.
When a family fight results in some tearful sisterly bonding, Alexis realizes that her life is creeping from dysfunction into danger. Kasey is acting stranger than ever: her blue eyes go green sometimes; she uses old-fashioned language; and she even loses track of chunks of time, claiming to know nothing about her strange behavior. Their old house is changing, too. Doors open and close by themselves; water boils on the unlit stove; and an unplugged air conditioner turns the house cold enough to see their breath in.

Alexis wants to think that it's all in her head, but soon, what she liked to think of as silly parlor tricks are becoming life-threatening--to her, her family, and to her budding relationship with the class president. Alexis knows she's the only person who can stop Kasey -- but what if that green-eyed girl isn't even Kasey anymore?

Undercov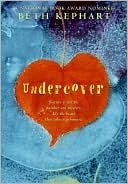 er by Beth Kephart
Like a modern-day Cyrano de Bergerac, Elisa ghostwrites love notes for the boys in her school. But when Elisa falls for Theo Moses, things change fast. Theo asks for verses to court the lovely Lila—a girl known for her beauty, her popularity, and a cutting ability to remind Elisa that she has none of these. At home, Elisa's father, the one person she feels understands her, has left on an extended business trip. As the days grow shorter, Elisa worries that the increasingly urgent letters she sends her father won't bring him home. Like the undercover agent she feels she has become, Elisa retreats to a pond in the woods, where her talent for ice-skating gives her the confidence to come out from under cover and take center stage. But when Lila becomes jealous of Theo's friendship with Elisa, her revenge nearly destroys Elisa's ice-skating dr
eams and her plan to reunite her family.
Skinned by Robin Wasserman
Lia Kahn was perfect: rich, beautiful, popular — until the accident that nearly killed her. Now she has been downloaded into a new body that only looks human. Lia will never feel pain again, she will never age, and she can't ever truly die. But she is also rejected by her friends, betrayed by her boyfriend, and alienated from her old life.
Forced to the fringes of society, Lia joins others like her. But they are looked at as freaks. They are hated...and feared. They are everything but human, and according to most people, this is the ultimate crime — for which they must pay the ultimate price.
Generation D
ead: Kiss of Life by Daniel Waters (ARC)
The phenomenon that's been sweeping the country seems to be here to stay. Not only are the teenagers who have come back from their graves still here, but newlydeads are being unearthed all the time. While scientists look for answers and politicians take their stands, the undead population of Oakville have banded together in a group they're calling the Sons of Romero, hoping to find solidarity in segregation.
Phoebe Kendall may be alive, but she feels just as lost and alone as her dead friends. Just when she reconciled herself to having feelings for a zombie -- her Homecoming date Tommy Williams -- her friend Adam is murdered taking a bullet that was meant for
her
. Things get even more confusing when Adam comes back from the grave. Now she has romantic interest in two dead boys; one who saved her life, and one she can't seem to live without.
Don't Judge a Girl By Her Cover by Ally Carter (ARC)
(No cover available)
When Cammie Morgan arrives at her friend Macey's five star hotel for the Democratic National Convention-where Macey's father is about to receive the vice presidential nomination-she thinks she's in for an exciting end to her summer break. But if you're a Gallagher Girl, "exciting" and "deadly" are never far apart.
Things quickly go south when Macey is summoned to the hotel roof to shoot a PR piece with the presidential candidate's son. But instead of cameras, attackers descend from a helicopter and swarm the girls, commanding, "Grab her." After a narrow escape, Cammie and Macey find themselves at a top secret hideout owned by the Gallagher Academy. and thus begins Cammie's junior year at spy school.
Cammie doesn't need her genius IQ to see that the kidnapping attempt has changed everything, especially now that Macey is a major celebrity, and the school has been besieged by news crews. More disturbing, Cammie can't shake the suspicion that her mom and Mr. Solomon know more about the attack than they're letting on. After all, why weren't the attackers surprised to find themselves in combat with two teenage girls who handled themselves like seasoned pros?
But these suspicions won't stop Cammie from jumping at the chance to join Bex and Liz as Macey's private security team on the campaign trail. Before long, the girls are using their espionage skills at every turn, as Cammie gets closer and closer to the shocking truth...
And then from the library:
Evermore
by Alyson Noel
Since a horrible accident claimed the lives of her family, sixteen-year-old Ever can see auras, hear people's thoughts, and know a person's life story by touch. Going out of her way to shield herself from human contact to suppress her abilities has branded her as a freak at her new high school—but everything changes when she meets Damen Auguste…
Ever sees Damen and feels an instant recognition. He is gorgeous, exotic and wealthy, and he holds many secrets. Damen is able to make things appear and disappear, he always seems to know what she's thinking—and he's the only one who can silence the noise and the random energy in her head. She doesn't know who he really is—or what he is. Damen equal parts light and darkness, and he belongs to an enchanted new world where no one ever dies.
What books did you get?