This amazing meme for everyone to brag about the fabulous new books they received over the week was started by Kristi at
The Story Siren
.
Yay, I got some great books this week that I am sooo excited about!
Always one of the popular kids, sophomore Paisley Hanover gets a rude awakening when she's booted out of yearbook and into the badlands of drama class. Out of her element but only momentarily out of ideas, Paisley takes action-and an unexpected liking to her drama buddies. The result? An undercover crusade that could bring down the popularity pecking order, and Paisley along with it.
This is the story of how Paisley Hanover gets wise, gets bold, and gets into a hilarious mess of trouble. With a package as fresh and clever as Paisley herself- including a cool slipcase, a fabulous novel, and Paisley's notebook of embarrassingly funny ideas and doodles-it's the start of a series that embraces the "Un" in UnUsual.
Purge: Rehab Diaries by Nicole Johns
(April 2009)
Purge is a beautifully crafted memoir that has a Girl, Interrupted feel. In this raw and engaging account of her months in rehab, Nicole Johns documents her stay in a residential treatment facility for eating disorders. Her prose is lucid and vivid, as she seamlessly switches verb tenses and moves through time. She unearths several important themes: body image and sexuality, sexual assault and relationships, and the struggle to piece together one's path in life. While other books about eating disorders and treatment may sugarcoat the harsh realities of living with and recovering from an eating disorder, Purge does not hold back. The author presents an honest, detailed account of her experience with treatment, avoiding the clichéd happily-ever-after ending while still offering hope to those who struggle with eating disorders, as well as anyone who has watched a loved one fight to recover from an eating disorder. Purge sends a message: though the road may be rough, ultimately there is hope.
From the Library:

(February 2009)
Abigail Reed and her younger sister, Becky, are always at each other's throats. Their mother calls them the September Sisters, because their birthdays are only a day apart, and pretends that they're best friends. But really, they delight in making each other miserable. Then Becky disappears in the middle of the night, and a torn gold chain with a sapphire heart charm is the only clue to the mystery of her kidnapping. Abby struggles to cope with her own feelings of guilt and loss as she tries to keep her family together. When her world is at its bleakest, Abby meets a new neighbor, Tommy, who is dealing with his own loss, and the two of them discover that love can bloom, even when it's surrounded by thorns.
The School for Danergous Girls by Eliot Schrefer
(January 2009)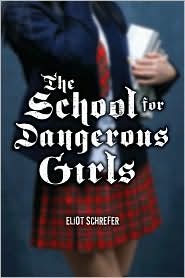 Angela's parents think she's on the road to ruin because she's dating a "bad boy." After her behavior gets too much for them, they ship her off to Hidden Oak. Isolated and isolating, Hidden Oak promises to rehabilitate "dangerous girls." But as Angela gets drawn in further and further, she discovers that recovery is only on the agenda for the "better" girls. The other girls -- designated as "the purple thread" -- will instead be manipulated to become more and more dangerous . . . and more and more reliant on Hidden Oak's care.
Bought:

Fade by Li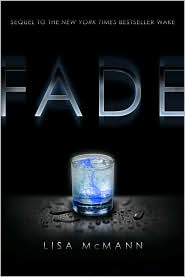 sa McMann
(February 2009)

SOME NIGHTMARES NEVER END.
For Janie and Cabel, real life is getting tougher than the dreams. They're just trying to carve out a little (secret) time together, but no such luck.
Disturbing things are happening at Fieldridge High, yet nobody's talking. When Janie taps into a classmate's violent nightmares, the case finally breaks open — but nothing goes as planned. Not even close. Janie's in way over her head, and Cabe's shocking behavior has grave consequences for them both.
Worse yet, Janie learns the truth about herself and her ability — and it's bleak. Seriously, brutally bleak. Not only is her fate as a dream catcher sealed, but what's to come is way darker than she'd feared....
I was SUPER excited I finally got Fade!!!! Actually, I'm excited about every book from this week! What did you get?
Taylor