Yay! My second giveaway. This time I am giving away five copies of Flygirl by Sherri L. Smith! I haven't read the book yet, but I have heard SO many amazing things, I am super jealous of whoever wins!
Make sure to check out Sherri's website and myspace page. I have heard great things about her!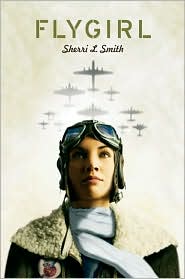 Flygirl by Sherry L. Smith
Ida Mae Jones dreams of flight. Her daddy was a pilot and being black didn't stop him from fulfilling his dreams. But her daddy's gone now, and being a woman, and being black, are two strikes against her.
When America enters the war with Germany and Japan, the Army creates the WASP, the Women's Airforce Service Pilots-and Ida suddenly sees a way to fl y as well as do something signifi cant to help her brother stationed in the Pacific. But even the WASP won't accept her as a black woman, forcing Ida Mae to make a difficult choice of "passing," of pretending to be white to be accepted into the program. Hiding one's racial heritage, denying one's family, denying one's self is a heavy burden. And while Ida Mae chases her dream, she must also decide who it is she really wants to be.
Yeah, I agree with you, it sounds fabulous. Here are the ways to enter.
+1 for posting below (INCLUDE YOUR EMAIL SO I CAN CONTACT YOU!!)
+2 for following
+3 if you are already following
+2 for adding me to your blogroll
+2 if you are interested in guest blogging for me (e-mail me)
+2 for posting a link to this contest elsewhere
Well, GOOD LUCK!! Remember, there are five copies so everyone has a great chance! Contest will end on Monday, March 2nd.
Taylor