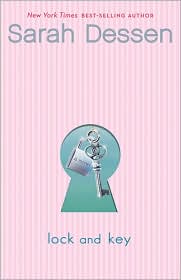 Lock and Key by Sarah Dessen
Published: April 2008
Pages:432
Age Group: Young Adult
Publisher: Penguin
"Ruby, where is your mother?" Ruby knows that the game is up. For the past few months, she's been on her own in the yellow house,managing somehow, knowing that her mother will probably never return. That's how she comes to live with Cora, the sister she hasn't seen in ten years, and Cora's husband Jamie, whose down-to-earth demeanor makes it hard for Ruby to believe he founded the most popular networking Website around. A luxurious house, fancy private school, a new wardrobe,the promise of college and a future—it's a dream come true. So why is Ruby such a reluctant Cinderella, wary and defensive? And why is Nate, the genial boy next door with some secrets of his own, unable to accept the help that Ruby is just learning to give?
I have honestly never read a Sarah Dessen novel before. I know, thats embarrassing. For some reason I almost felt intimidated by her books because their so popular. Lock and Key is no exception when it comes to amazing books.
The story starts quickly, which is a must for me. I HATE when I can't get into a book right from the beginning.
I absolutely love the realism of this book. I don't know very much about any of the problems Ruby goes through but it sounds so realistic. The whole time I was reading I could picture the problems existing. Whether things were going well or not, the consequences of all of the actions were well explained. I absolutely love books that are completely realistic. I hate when the characters in books just get everything all pretty and perfect. I believe in the struggle.
I absolutely LOVE Nate's character. He was so much more interesting than most boyfriend types. He had his own problems that were so apparent right from the start but he was so genuinely kind that he kept working to help Ruby get over hers.
The only complaint I have about this book is how Nate moved away. I was hoping that he would move in with Ruby or something, not to Arizona!
This book is great and I have an ARC of Along For The Ride that I am soooo looking forward to!
4.5/5