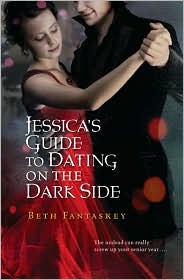 Jessica's Guide to Dating on the Dark Side by Beth Fantaskey
Published: February 2009
Pages: 368
Age Group: Young Adult
Publisher: Houghton Mifflin Harcourt
The undead can really screw up your senior year . . .
Marrying a vampire definitely doesn't fit into Jessica Packwood's senior year "get-a-life" plan. But then a bizarre (and incredibly hot) new exchange student named Lucius Vladescu shows up, claiming that Jessica is a Romanian vampire princess by birth—and he's her long-lost fiancé. Armed with newfound confidence and a copy of Growing Up Undead: A Teen Vampire's Guide to Dating, Health, and Emotions, Jessica makes a dramatic transition from average American teenager to glam European vampire princess. But when a devious cheerleader sets her sights on Lucius, Jess finds herself fighting to win back her wayward prince, stop a global vampire war—and save Lucius's soul from eternal destruction.
Wow! I loved this book! I had very high expectations for this novel and it definitely rose up to the occasion!
This book has the two ingredients that make me pick up a book. First, it has a beautiful. Secondly, and most importantly, ITS ABOUT VAMPIRES! I love love loveee vampire books.

Fantaskey mixed in so many different elements. Like many vampire books there were the old powerful royal families. Then, like many other vampire books there was the trendy high school style that isn't cliche vampire at all. She mixed the two together unlike any other book I have read.
One of my favorite parts of this book was how Jessica wouldn't believe that Lucius was a vampire. It usually bothers me when characters just believe people right away when they say their supernatural. Jessica's reaction was so much more realistic, not to mention funny!
There are only two problems I have with this book. First, I hated Faith's character. I wish she never existed! I felt like she took away from Jessica and Lucius's relationship and made it slightly unconvincing. I also hate that this is a one time deal. Please please please make this into a series! It was fabulous!
If you haven't read Jessica's Guide, do it! 5/5