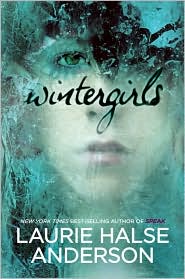 Wintergirls by Laurie Halse Anderson
Published: March 2009
Pages: 288
Age Group: Young Adult
Publisher: Penguin Group
"Dead girl walking," the boys say in the halls.
"Tell us your secret," the girls whisper, one toilet to another.
I am that girl.
I am the space between my thighs, daylight shining through.
I am the bones they want, wired on a porcelain frame.
Lia and Cassie are best friends, wintergirls frozen in matchstick bodies, competitors in a deadly contest to see who can be the skinniest. But what comes after size zero and size double-zero? When Cassie succumbs to the demons within, Lia feels she is being haunted by her friend's restless spirit.
Just like I have said about many of past reads, Wintergirls has a beautiful cover. The cover has actually motivated me to take one of my senior pictures through a stained glass window.

Since I read the sypnosis of Wintergirls I just HAD to read the book. Well, after I finally managed to get my hands on a copy (and a few more for my contest) I can say the book most certainly exceeded expectations.
The style of writing Anderson uses is full of power, a combination of heavy metaphors, horrifying memories and sickening thoughts twist together around the reader, forcing them to continue. Although the saddness of the book is hard to swallow and I often found myself struggling to finish reading, its realism and strong plot keep me flipping the pages.
Besides being powerfully written, the problems Lia face are realistic and serious which made me curious. I have witnessed the effects of alcohol addiction but never anorexia. Learning about the disease by reading a wonderful novel makes the saddness of the disease easier to deal with.
The research done by Anderson was excellent and her writing style has never failed to impress me. Wintergirls is a gripping book that everyone should get their hands on!
4.5/5