The amazing idea for every blogger to get to brag about all the amazing books they got during their week was started by
The Story Siren
.
WOW I had an absolutely amazing week! I didn't think I would have recieved any books by Monday (today) to be able to post this but I was definitely wrong!
*Just so you know this is going to be a really long post so bear with me.
From Barnes and Noble:
The Ruin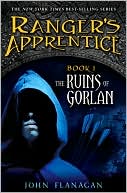 s of Gorlan (Ranger's Apprentice Series #1)
by

John Flanagan
He had always wanted to be a warrior. The Rangers, with their dark cloaks and shadowy ways, made him nervous. The villagers believe the Rangers practice magic that makes them invisible to ordinary people. And now fifteen year-old Will, always small for his age, has been chosen as a Ranger's apprentice. What he doesn't realize yet is that the Rangers are the protectors of the kingdom. Highly trained in the skills of battle and surveillance, they fight the battles before the battles reach the people. And as Will is about to learn, there is a large battle brewing. The exiled Morgarath, Lord of the Mountains of Rain and Night, is gathering his forces for an attack on the kingdom. This time, he will not be denied . . . .
From the Library: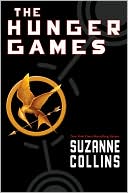 The Hunger Games
by Suzanne Collins
In the ruins of a place once known as North America lies the nation of Panem, a shining Capitol surrounded by twelve outlying districts. The Capitol is harsh and cruel and keeps the districts in line by forcing them all to send one boy and one girl between the ages of twelve and eighteen to participate in the annual Hunger Games, a fight to the death on live TV. Sixteen-year-old Katniss Everdeen, who lives alone with her mother and younger sister, regards it as a death sentence when she is forced to represent her district in the Games. But Katniss has been close to dead before-and survival.

Lo
ck
an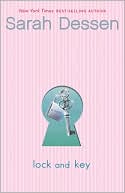 d
Ke
y
by

Sarah Dessen
"Ruby, where is your mother?" Ruby knows that the game is up. For the past few months, she's been on her own in the yellow house, managing somehow, knowing that her mother will probably never return.That's how she comes to live with Cora, the sister she hasn't seen in ten years, and Cora's husband Jamie, whose down-to-earth demeanor makes it hard for Ruby to believe he founded the most popular networking Web site around. A luxurious house, fancy private school, a new wardrobe, the promise of college and a future—it's a dream come true. So why is Ruby such a reluctant Cinderella, wary and defensive? And why is Nate, the genial boy next door with some secrets of his own, unable to accept the help that Ruby is just learning to give?
Ink Exchange
by
Melissa Marr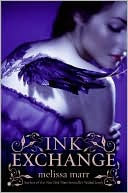 Unbeknownst to mortals, a power struggle is unfolding in a world of shadows and danger. After centuries of stability, the balance among the Faery Courts has altered, and Irial, ruler of the Dark Court, is battling to hold his rebellious and newly vulnerable fey together. If he fails, bloodshed and brutality will follow.
Seventeen-year-old Leslie knows nothing of faeries or their intrigues. When she is attracted to an eerily beautiful tattoo of eyes and wings, all she knows is that she has to have it, convinced it is a tangible symbol of changes she desperately craves for her own life.
The tattoo does bring changes—not the kind Leslie has dreamed of, but sinister, compelling changes that are more than symbolic. Those changes will bind Leslie and Irial together, drawing Leslie deeper and deeper into the faery world, unable to resist its allures, and helpless to withstand its perils. . . .
Wicked Lovely by Melissa Marr
Rule #3: Don't stare at invisible faeries.

Aislinn has always seen faeries. Powerful and dangerous, they walk hidden in mortal world. Aislinn fears their cruelty—especially if they learn of her Sight—and wishes she were as blind to their presence as other teens.
Rule #2: Don't speak to invisible faeries.
Now faeries are stalking her. One of them, Keenan, who is equal parts terrifying and alluring, is trying to talk to her, asking questions Aislinn is afraid to answer.
Rule #1: Don't ever attract their attention.
But it's too late. Keenan is the Summer King who has sought his queen for nine centuries.
Without her, summer itself will perish. He is determined that Aislinn will become the Summer Queen at any cost—regardless of her plans or desires.
Suddenly none of the rules that have kept Aislinn safe are working anymore, and everything is on the line: her freedom; her best friend, Seth; her life; everything.
Faerie intrigue, mortal love, and the clash of ancient rules and modern expectations swirl together in Melissa Marr's stunning 21st century faery tale.
My first shipment of ARCs (YAY!!):
Along for the Ride by Sarah Dessen
It's been so long since Auden slept at night. Ever since her parents' divorce—or since the fighting started. Now she has the chance to spend a carefree summer with her dad and his new famil
y in the charming beach town where they live.
A job in a clothes boutique introduces Auden to the world of girls: their talk, their friendship, their crushes. She missed out on all that, too busy being the perfect daughter to her demanding mother. Then she meets Eli, an intriguing loner and a fellow insomniac who becomes her guide to the nocturnal world of the town. Together they embark on parallel quests: for Auden, to experience the carefree teenage life she's been denied; for Eli, to come to terms with the guilt he feels for the death of a friend.
Peace, Love & Baby Ducks by Lauren Myracle
Growing up in a world of wealth and pastel-tinted entitlement, fifteen-year-old Carly has always relied on the constancy—and authenticity—of her sister, Anna. But when fourteen-year-old Anna turns plastic-perfect-pretty over the course of a single summer, everything starts to change. And there are boys involved, complicating things as boys always do. With warmth, insight, and an unparalleled gift for finding humor even in stormy situations, beloved author Lauren Myracle dives into the tumultuous waters of sisterhood and shows that even very different sisters can learn to help each other stay afloat.
After Tupac and D Foster by Jacqueline Woodson
The da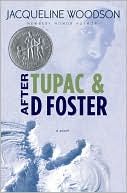 y D Foster enters Neeka and her best friend's lives, the world opens up for them. D comes from a world vastly different from their safe Queens neighborhood, and through her, the girls see another side of life that includes loss, foster families and an amount of freedom that makes the girls envious. Although all of them are crazy about Tupac Shakur's rap music, D is the one who truly understands the place where he's coming from, and through knowing D, Tupac's lyrics become more personal for all of them.
The girls are thirteen when D's mom swoops in to reclaim D—and as magically as she appeared, she now disappears from their lives. Tupac is gone, too, after another shooting; this time fatal. As the narrator looks back, she sees lives suspended in time, and realizes that even all-too-brief connections can touch deeply.
Keepe
r of the Grail: The Youngest Templar 1
by
Michael Spraldin

1191 A.D. The orphan Tristan has joined the Knights Templar as a squire, journeying with Richard the Lionheart on his crusade to free the Holy Land from the Saracens. As defeat looms near, Tristan is entrusted with the most sacred of Christian relics, the Holy Grail. He must return it safely to Britain, but he must also keep it secret, because the Grail's power will drive men to madness, and even his fellow Knights Templar will kill for it.
Tristan teams up with the fiery Robard Hode- returning to his home in Sherwood after serving with the King's Archers-and Maryam, an equally fierce girl and a member of the dreaded Hashshashin. Together they must escape the Holy Land, dodging bandits, the forces of the Saladin, and unscrupulous knights who will stop at nothing to possess the Grail.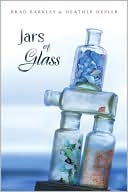 Jars of Glass by Brad Barkley and Heather Hepler
Teenage sisters Chloe and Shana recall fondly the days when their mother wove stories about kingdoms under the sea. Now that Mom is "away," Chloe does not allow herself to believe in fairy tales. She is too busy caring for her adopted brother, Micah, because Dad has become withdrawn. Shana copes by escaping every night under the cover of Goth garb. The day the family visits Mom for the first time is the day Chloe learns why Shana will never allow their mother to return. It is up to the sisters to pull together and form a new definition of family.

Geek Magnet by Kieran Scott
Everyone loves KJ Miller, especially the geeks. She's pretty, smart, and super nice to everyone, which has made her the geek pied piper of Washington High. If only Cameron, the star of the basketball team, would follow her around and worship her the way her dorky entourage does.
As the stage manager of the spring musical, Grease, KJ has to deal with a few geeks, but she also gets to hang out with Tama, queen of the popular crowd and star of the play. Tama has the solution to all of KJ's problems: get cruel. After all, the nice girl never gets the guy. Can KJ actually pull off a transformation into a mean girl?
Death
by Bikini
by
Linda Gerber
Aphra Behn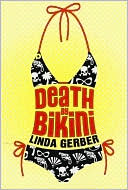 Connolly has the type of life most teenage girls envy. She lives on a remote tropical island and spends most of her time eavesdropping on the rich and famous. The problem is that her family's resort allows few opportunities for her to make friends-much less to meet cute boys. So when a smoldering Seth Mulo arrives with his parents, she's immediately drawn to him. Sure, he's a little bit guarde d, and sure his parents are rather cold, and okay he won't s ay a word about his past, but their chemistry is undeniable. Then a famous rock star's girlfriend turns up dead on the beach-strangled by her own bikin i top-and a larm bells sound. Is it too great a coincidence that Seth's fam ily turned up just one day before a murder? As the plot thickens, Aphra finds that danger lurks behind even the most unexpected of faces. . . .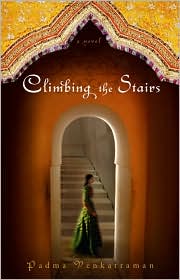 Climbing the Stairs
by
Padma Vankatraman
A remarkable debut novel set in India that shows one girl's struggle for independence.
During World War II and the last days of British occupation in India, fifteen-year-old Vidya dreams of attending college. But when her forward-thinking father is beaten senseless by the British police, she is forced to live with her grandfather's large traditional family, where the women live apart from the men and are meant to be married off as soon as possible.
Vidya's only refuge becomes her grandfather's upstairs library, which is forbidden to women. There she meets Raman, a young man also living in the house who relishes her intellectual curiosity. But when Vidya's brother decides to fight with the hated British against the Nazis, and when Raman proposes marriage too soon, Vidya must question all she has believed in.

Becaus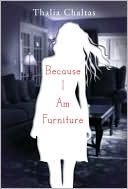 e I Am Furniture by Thalia Chaltas
Anke's father is abusive. But not to her. He attacks her brother and sister, but she's just an invisible witness in a house of horrors, on the brink of disappearing altogether. Until she makes the volleyball team at school. At first just being exhausted after practice feels good, but as Anke becomes part of the team, her confidence builds. When she learns to yell "Mine!" to call a ball, she finds a voice she didn't know existed. For the first time, Anke is seen and heard. Soon, she's imagining a day that her voice will be loud enough to rescue everyone at home-including herself.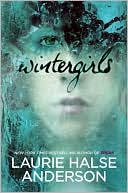 Wintergirls by Laurie Halse Anderson
"Dead girl walking," the boys say in the halls.
"Tell us your secret," the girls whisper, one toilet to another.
I am that girl.
I am the space between my thighs, daylight shining through.
I am the bones they want, wired on a porcelain frame.
Lia and Cassie are best friends, wintergirls frozen in matchstick bodies, competitors in a deadly contest to see who can be the skinniest. But what comes after size zero and size double-zero? When Cassie succumbs to the demons within, Lia feels she is being haunted by her friend's restless spirit.
Dragonbrea
th by Ursula Vernon
It's not easy for Danny Dragonbreath to be the sole mythical creature in a school for reptiles and amphibians—especially because he can't breathe fire like other dragons (as the school bully loves to remind him). But having a unique family comes in handy sometimes, like when his sea-serpent cousin takes Danny and his best iguana friend on a mindboggling underwater tour, complete with vomiting sea cucumbers and giant squid. It sure beats reading the encyclopedia to research his ocean report...
The Siege of Macindaw (Ranger's Apprentice Series #6) by John Flanagan
After years as a Ranger's apprentice, Will is now the protector of his first fief. Not long into his service, everything that can go wrong does: Keren, a renegade knight, has taken over Castle Macindaw, a strategic gateway to the North—poisoning the royal family in the process—and is holding Will's friend Alyss captive. The situation grows direr when Will uncovers Keren's secret alliance with the Scotti, who have plans to plunder Araluen. Time is of the essence, and Will must recruit a motley crew to rescue Alyss and reclaim Castle Macindaw—before the Scotti can make it their own.
Tales of the Madman Underground by John Barnes
Wednesday, September 5, 1973: The first day of Karl Shoemaker's senior year in stifl ing Light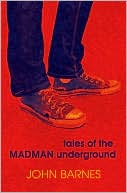 sburg, Ohio. For years, Karl's been part of what he calls "the Madman Underground"-a group of kids forced (for no apparent reason) to attend group therapy during school hours. Karl has decided that senior year is going to be different. He is going to get out of the Madman Underground for good. He is going to act-and be-Normal. But Normal, of course, is relative. Karl has fi ve after-school jobs, one dead father, one seriously unhinged drunk mother . . . and a huge attitude. Welcome to a gritty, uncensored rollercoaster ride, narrated by the singular Karl Shoemaker.

WOW that took forever. Now that you have seen all the fabulous books I recieved this week (acutally just today) let's hear what you got!