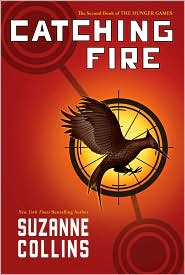 Catching Fire by Suzanne Collins
(September 8, 2009)
Against all odds, Katniss Everdeen has won the annual Hunger Games with fellow district tribute Peeta Mellark. But it was a victory won by defiance of the Capitol and their harsh rules. Katniss and Peeta should be happy. After all, they have just won for themselves and their families a life of safety and plenty. But there are rumors of rebellion among the subjects, and Katniss and Peeta, to their horror, are the faces of that rebellion. The Capitol is angry. The Capitol wants revenge.
Being the lame cover whore I am, I figured that
The Hunger Games
wouldn't be nearly as amazing as everyone claimed. I was so far from being right. The Hunger Games was absolutely perfect, definitely the best book in 2008. Needless to say I am soooo excited for Catching Fire. If anyone out there who reads this has an ARC copy I would love you forever if I could snag a copy. If not, well, I can't wait until September!
What are you waiting for?
-Taylor