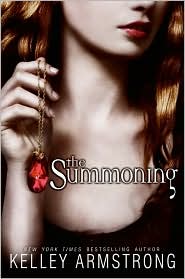 The Summoning by Kelley Armstrong
Published: July 2008
Pages: 400
Age Group: Young Adult
Publisher: HarperCollins
After years of frequent moves following her mother's death, Chloe Saunders's life is finally settling down. She is attending art school, pursuing her dreams of becoming a director, making friends, meeting boys. Her biggest concern is that she's not developing as fast as her friends are. But when puberty does hit, it brings more than hormone surges. Chloe starts seeing ghosts–everywhere, demanding her attention. After she suffers a breakdown, her devoted aunt Lauren gets her into a highly recommended group home.
At first, Lyle House seems a pretty okay place, except for Chloe's small problem of fearing she might be facing a lifetime of mental illness. But as she gradually gets to know the other kids at the home–charming Simon and his ominous, unsmiling brother Derek, obnoxious Tori, and Rae, who has a "thing" for fire–Chloe begins to realize that there is something that binds them all together, and it isn't your usual "problem kid" behaviour. And together they discover that Lyle House is not your usual group home either…
I got my first glimpse of The Summoning from WORD for Teens before I even made my blog. I remember thinking it had a beautiful cover and the name was very intriguing. Unfortunately I completely forgot about it (shame on me!) and by the time I remembered I wanted to read it all of my money was stolen and I could no longer buy new books. I finally got a chance to read The Summoning when I found out my local library carried it. I am extremely fortunate to have such a stocked library so close to home. I'm talking two miles tops.
As many of you know from my lack of posts lately, I had been in a bit of a reading rut. I didn't touch a book in ten whole days! Finally I decided to give up the book I was reading and try The Summoning. WOW! What an addicting book. Goodbye reading rut, hello The Summoning!
The Summoning is a must read. Chloe's character is much different than most main characters. She is into screen writing and directing which isn't something I have seen in a book before. Armstrong really did her research.
Every time I felt like I could tell what would come next, Armstrong surprised me. I never ever expected there to be more supernatural elements in this book that ghosts and boy was I wrong.
Wow! I can't even begin to explain the brilliance of the plot line. There are so many original twists, it is as far from a cliche sci-fi as you can get. Speaking of twists, I CAN'T BELIEVE THE ENDING!
Well obviously I loved the book and I am sooooo excited for The Awakening!
5/5